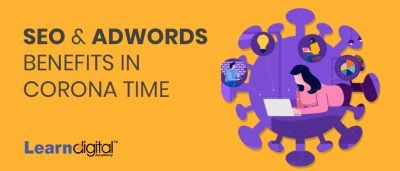 With over a million cases of the novel coronavirus, governments around the world have taken steps to limit how people interact.  This has changed how people engage with brands and do business on a massive scale. As organizations work to remain relevant for their target customers throughout this pandemic, maintaining a strong digital presence through SEO and content marketing will be one of the most important steps they take. As brick and mortar stores continue to find themselves forced to shut their doors, digital advertising and e-commerce have become more important than ever. Customers are increasingly shifting their buying activity towards only options and brands need to be present for these consumers.
SEO AND AdWords:
SEO stands for search engine optimization. It is the process of getting traffic from the free, organic, editorial, or natural search results on search engines. It is the art of ranking high on a search engine in the unpaid section, also known as the organic listing. Search engine optimization is the process of optimizing your online content so that a search engine likes to show it as a top result for searches of certain keywords. All major search engines such as Google and Bing have primary search results, where web pages and other content such as videos, images, or local listing are shown and ranked based on what the search considers most relevant to users.
SEO making certain changes to your website design and content that make your site more attractive to a search engine. The search engine will display your website as a top result on the search engine result page. Search engines want to provide the best service for their users. This means delivering results on the search engine pages that are not only high quality but also relevant to what the searcher is looking for.
Google ads are Google's online advertising program. Through Google Ads, you can create online ads to reach people exactly when they're interested in the product and services that you offer. Google ads are a product or service, raise awareness, and increase traffic to your website. Google ads accounts are managed online, so you can create and change your ad campaign at any time, including your ad text, settings, and budget. There is no minimum spending commitment, and you set and control your own budget. You choose where your ad appears, set a budget that's comfortable for you, and easily measure the impact of your ad.

Important of SEO during the lockdown:
The emergence of COVID 19 over the past few months has thrown many businesses into a state of turmoil and uncertainty. Unlike other global issues, such as recessions, businesses of all sizes and industries are affected by this virus in one way or another, as economies all over the world struggle. Marketing, just like other business practices,  needs to be adjusted in order to survive throughout the coronavirus crisis. Online marketing is likely to be the only way in which you can realistically reach customer, as entire countries go into lockdown, and this form of marketing also has a benefit thanks to more people being stuck at home, and thus on the internet more often.
Maintain Website User-friendly: During the lockdown period, people will be online almost every day, and they will still be browsing to your business website. This means that you need to maintain the user-friendliness of it, such as ensuring the user journey is clean and uncluttered, that relevant content is front and center,and that everything is optimized.
Using SEO during a crisis can be done to uphold your search engine results, especially if you focus on the right keyword during this period
Brand awareness and organic search results are often linked to one another, and using search engine optimization can help you to build and maintain both.
Consumers are turning to online markets to address their needs, which means that thriving organizations will be those ready to meet them with an excellent online experience and engaging content. Brand should also note that much of this growth has occurred on mobile devices, as smartphones and tablets have seen an incredible 50% growth in usage. Therefore, brands should focus on creating high-quality content and digital experiences that will engage customers through mobile devices. As consumers turn to online resources to conduct their shopping, brands will want to create targeted content to attract new potential users and customers to their site. As you engage with your customers, learn more about their interests and concerns during this time of social distancing and isolation.
As customers are stuck inside, working from home and unable to go about their typical lives, use your content to help them think about the future and begin to plan for what they will do when this pandemic ends. To maintain a strong presence with your customers you will also need to think about how to engage them across multiple channels, including organic, paid, and email.
Users are shifting to online shopping more and more since this all began. Everyone is at home searching on their phones for the products they need. During the lockdown period, digital media in the form of online news and websites will have plenty of readers, even far more than newspapers and other print media. Hence, businesses need to produce relevant and customer-centric articles and blogs to keep consumers engaged. In the age of instant messaging and online conversations,  live campaigning is important for maintaining a healthy relationship between companies and their customers.  Online campaigning is an essential tool for customer engagements during the lockdown period when people are in their homes, you can organize a campaign and attract many audiences.  Likewise, there are many features that you can use to promote your business online. The government as well as other private players are using this platform to educate and aware people of the development of the COVID-19.
Coronavirus has socially distanced people but social media has brought the community even more closer. This refers to using online marketing tools, such as Google AdWords campaign and SEO practice in order to keep your brand in the public eye and offering a way to reach customers and build your brand personality.
Want to build a career in digital marketing? Check out the list of courses we have in digital marketing. Enroll in our Digital marketing training courses in Bangalore Marathahalli.