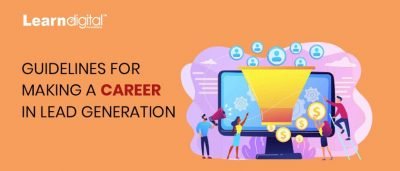 [vc_row][vc_column][vc_column_text]
Just launching a product is not enough. It needs to reach the right customers at the right time. Earlier it was so tough to identify the right set of customers and every company was investing hugely in marketing/advertising to identify the segmentation of customers by doing surveys, doing activities, hiring agencies, and collecting physical data which translates into leads.
The approach was more macro rather than micro. But with the explosion of smartphones, mobile data connectivity has given the birth to NEW DIGITAL / ONLINE Platform. More and more business owners are turning to the internet to generate new customers (LEADS converting to CONVERSION) and grow their company revenues.
This has opened vast opportunities in the field of Lead Generation both as Employers & Employees.
Technology is making customers smarter and more analytical, now they want everything at a click. So, it's required to change the way companies where planning earlier and segmenting or generating leads in the Current Era.
Importance of Lead Generation in the Current Era:
In the current era, more emphasis after the New Product launch is to promote the product to the right set of customers (Converted from various Lead Generation activities). The process of attracting your ideal customers and getting them interested in buying your products or services are known as LEADS. With digitization, Leads can connect with your business in various types. For example- your websites, Email marketing, networking events, social media, and ads- all play a role in generating leads.
In the present fast pacing world, it's necessary to become Digital in Lead generation at every stage of the customer journey. From AWARENESS (Stage where people know they have a problem) to EVALUATION (Stage where they are looking for solutions) to CONVERSION (Stage where they are making a decision).
3 Stage Customer Journey:
A big opportunity for both Employee & Employer is how good one can pair Lead generation with lead management to convert leads through the purchase funnel. So in the current era, this combination of activities is referred to as pipeline marketing to give more micro-level results with revenue growth and optimization of companies' ROI.
Growing opportunity for Digital Marketers to make a career – A recent study tells that direct traffic to your website, traffic through search engines, and web referrals are the 3 most popular online channels for lead generation, accounting for 93% of leads.
Top Methods for Lead Generation in the Current Era:
Earlier conventional methods for generating leads typically fall under the umbrella of advertising but with Digital explosion now more micro-level leads are generated which are more effective and almost free by organic search engine results or referrals from existing customers.
Good Leads can be generated from various activities and sources. For example- digitally via the Internet, through personal referrals, through telephone calls either by the company or telemarketers, through advertisements, and events. A recent study shows that 89% of email marketing as the most-used channel for generating leads, followed by content marketing, search engine optimization, and finally events.
Website for Lead Generation: One of the most important places for lead generation is your company website. A good website needs to have a High-converting landing page / Compelling Call of Action / Attractive Offers / An Opt-in form. Website visitors become leads by taking actions like:
Subscribing to your email list
Subscribing for Newsletter
Grabbing your lead magnet (Like- eBook, checklist, download, or anything else that your visitors would find valuable).
Signing up for a webinar
Starting a free trial
SEO for Lead Generation: How to Attract More Organic Leads – If you're not using SEO as part of your marketing strategy, you're missing a great opportunity to get more qualified organic leads by attracting more traffic to your website.
SEO serves as a funnel in helping your website to become one of the best lead generation tools. To get the best results and encash this opportunity, you need to keep optimizing and creating quality content so that search engines and the customer searching sees the value in what is offered and ends up in signing up or purchase.

In a nutshell How does SEO help with lead Generation and how it works:
Content Marketing for Lead Generation: Creating quality content and keep optimizing them helps you to attract an audience, and helps to turn them into leads, and convert into sales. Once a visitor becomes customers, you can use more new content to keep them informed and interested.
These days, customers find information and start making a decision long before they talk to you. Your content should have that potential to provide that information. That's why you don't just need a strategy for how to get leads to your website with SEO, you also need a great content marketing strategy for quality Lead generation.
Along with quality content for better leads, one can Create a blog and attract blog subscribers / Use videos or podcasts to boost engagement / Build your business personality with photos and infographics / Use various Lead Magnet ideas Like- eBook, checklist, download, or anything else that your visitors would find valuable. Important points to keep in mind for effective content:
Know your content goals and content marketing mission goals
Figure out the content types that best suit your audience
Create a quality content to appeal to your audience
Working out the best channels to distribute the content
Building awareness of your business
Creating interest in your products and services
Making your audience actively consider buying from you
Helping prospects make the decision to use your products and services
The internet is a highly visual place. Use a combination of text, images, and videos to tell visitors a story and create an emotional connection between your brand and leads.
Email marketing for Lead Generation: Email marketing is the most direct and effective way of connecting personally with individuals, nurturing them, and converting them into customers.
In the present Era, Email marketing is a highly effective digital marketing strategy not only for Lead Generation but also having personal connections with prospects and customers. Despite the rise of social media email remains the most effective way to nurture leads and turn them into customers.
Effective marketing emails convert prospects into customers and turn one-time buyers into loyal customers, raving fans who become your brand ambassadors.
Lead Generation through Email marketing has a high conversion ratio. By recent results, it is proved that email marketing has an ROI of more than 3700%. That's why Email is the No1 communication channel. The best part of this is that you own your email list and no one can take away those leads.
Email is simply the best way in all 3 stages of the customer journey and converts sales online.
Few Top most steps to get started with generating leads via email marketing are:
Selection of email marketing service
Designing attractive signup forms and marketing campaigns
Creating the best lead magnet
Write killer email subject lines so people open your emails
Personalize and make a human connection with your emails
Keep tracking your email test results so you can improve your strategy
Try to Avoid Spam Filters
Regularly update by removing Inactive Subscribers to Keep Your List Fresh
Perform some A/B tests to identify which timeframes seem to do best and explore those in future campaigns.
Using visual and pics with amazing Content to convey the message, Every Time
Optimize for Mobile
Send more value emails than sales emails.
Social Media for Lead Generation: Sticking with lead generation beyond your website, social media can drive leads directly and can improve ranking and visibility for SEO.
With the rise of time spent by individuals on social networking websites, social media is becoming a big business opportunity to generate leads and product communication.
The Top important sites for social media lead generation are Twitter, Facebook, and Instagram. Many companies actively participate in social networks including LinkedIn, Twitter, and Facebook to find talent pools or market their new products and services.
Here are some tips to help you Get More Leads from this Social Media Platform:
Choose the Right Hashtags
Engage with Your Audience / Go Instagram Live / Participate in Twitter Chats
Share User-Generated Content
Add a Link to Your Site / Add Social Buttons to Your Email Newsletter
Discover What's Working to Drive More Engagement
Add Security Seals
Post at the Right Time of Day
Replace Text with Images / Use Statistics and Data Points
Lead Generation in the present era for businesses needs to change. This shows how big opportunities are available with Digital Transformation. Companies / Individuals who don't have a good online presence and need a head start in marketing their products and services need to understand, that a business cannot wait for 6-9 months before their website starts to rank well on the search engine and the website gets organic search traffic. Lead generation methods mentioned can help you market your products and services on the Internet from the very first day.
wondering how to start a career in digital marketing. worry not. Joi our best digital marketing course in Bangalore. We have trained over 35+ Batches, 800+ Students, Career Aspirants, Business Owners, and Entrepreneurs, We can guide you in achieving your Career Dreams as well as fulfilling your Business Objectives.
Author- Ashish Mishra- Sales & Marketing Professional
"Be Digital as Future Demands"
Read More:-
Future of Search Engine Optimization (SEO)
[/vc_column_text][/vc_column][/vc_row]