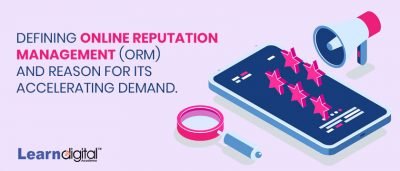 What is Online Reputation:
Online reputation can be precisely defined as an image of a brand or a company on the huge landscape of digital mirror. Online reputation exactly shows how outstanding and preferable one's brand or its product/services appear to a potential customer. An online reputation is related to customer perception of a brand or its product/services. It plays a greater role to influence customer's expectations including purchase decisions and establishing online credibility. Online reputation follows a trajectory followed with
Social Media Reputation likes Facebook posts and Page, Instagram stories, Tweets and many more.
Digital Public Relations (PR) refers to managing online journalists, bloggers, and digital influencers.
SEO Reputation refers to rank higher in SERP (Search Engines Result Page) and influencing online reputation positively forward.
Earned Media refers to earning free online publicity.
But the flip side is, this digital mirror is huge and bears some super magnifying powers. It not only shows how good a brand appears but the darker shades too. A brand enjoys control over its own curated contents like websites or blogs and can audaciously boast about it. But there will be other things too which could be a mudslinger on a brand's image. User dedicated platforms and tools can either picture a brand's reputation glossier or can even make a dent.
Google My business contains all details with user reviews demarcating both the positive and negative aspects/ experiences of a brand's product or its services.
Facebook page and posts offer a great platform to promote one's brand but it is the user experience and their opinions that carve out a brand's niche.
Twitter, Instagram, and many other platforms offer the same but again without the user's validation it is extremely difficult to promote a brand.
LinkedIn, being a corporate tool, can showcase the brilliant and expert minds associated with a brand and hence another way of promotion.
Corporate/Company portals also play an important role as employee's reviews and employer's opinion also defines their reputation.
Importance of Online Reputation:
Just a few years back, websites were functioning as business brochures. Websites static way of functioning allowed only one-way communication and information to flow from top to down unidirectional. There used to exist a gap or barrier between brands and their users. The evolution of the internet has shattered these walls and bridged the gap between brands and their users. In present users are actively engaged with brands. Access to online platforms has empowered users to keep the bond intact and flexible enough with whatever brands they prefer to use.
Many brands have realized this need of time and are proactively inducing user participation in their daily business. Nowadays brands have started to compete among themselves to appear more trustworthy and reliable to attract more and more potential buyers. A suitable example can be of E-commerce destinations. All these shopping platforms take great pride and using the same as a marketing strategy to display user verified product ratings and reviews. Hence to protect and upheave a brand's business interests, its best not to avoid this online chitchat of users. Even if a brand decides to turn down any user engagement, users are not going to stop discussing that brand & its services. Thus opting for non-engagement of customers proves to be losing control over how a brand is getting portrayed or marketed.
What is Online Reputation Management?
Online Reputation Management is a set of strategies adopted with far-sightedness and making corresponding preparations to influence customer perception. This methodology commences by proactively putting praiseworthy content first. Online Reputation Management involves a variety of methods to address all online negativity in a customer-friendly and of course a constructive manner. Third-party opinions or using right market influencers to curate favorable online content is a key strategy adopted in Online Reputation Management. These Third-party contents always focus on positive aspects of a brand and its services should be pushed forward digitally all the time to rank higher in search engines result page and simultaneously draining off all the online negativity. Ratings and reviews received from verified customers also help a lot in enhancing the online reputation. Promoting customer engagement and asking for their honest feedback is a well-known strategy put in use under Online Reputation Management.
Online Reputation Bomb:
All factors or events culminating to a level where it can tarnish a brand's image to any degree are categorized as Online Reputation Bombs. It is of utmost importance to know and analyze these menace causing risks.
Negative Reviews:
Consumer's persona and buying decisions towards a product /service get framed a lot by reviews. Whether it is about some hotel booking through, say Trivago or GoIbibo, or about some random product on Amazon or Flipkart, users tend to follow previous ratings and reviews. For example, Negative reviews about Moto-G phones having heating and processor issues played a pivotal role in dipping sales and ultimately disappearing from markets.
Bad Publicity:
News reports about some accidents, mistakes, malfunctions give very much Bad Publicity and hurt a brand's reliability, credibility, and overall image. For example News reports of Zomato delivery guy eating the food meant for customers gave a serious blow to Zomato's credibility and trustworthiness. Another example could be of Nestle's instant noodles brand Maggi containing higher than permissible limits of some chemical compounds, led ultimately to withdrawal of the market stocks. This incident became a PR nightmare for Nestle and saw some very deep dives in its stock market price, overall sales revenue, and the company's image.
Social Media Complaints:
Users mentioning and at the same time sharing their past bad experiences about a product or a service on a certain brand's page is exactly defined as Social Media Complaints. These are comparatively lesser threatening than others but can do some serious damage to a brand's reputation if not addressed properly.
For Example, It is very often seen users sharing their negative cab (say OLA or Uber, in India) booking and ride experiences on social media platforms. This sometimes led to discouraging other users or potential buyers from availing services of that particular brand and opting for other alternatives.

Hate Campaigns:
Breaching limits and going beyond generally defined norms, an aggressive form of spreading online negativity is by making ad hoc websites, is classified under Hate Campaigns. These so-called Hate Sites openly express opinions and convictions (mostly illegal) declaring any brand's product or service as scams. An extreme form is to malign the brand's reputation by making a different kind of allegation on people associated with a brand.
For Example Hate Campaigns against Hindustan Unilever's brand Surf excel. Around 2018, the Surf excel came with a video advertisement of describing Hindu festival Holi, but it received some serious flak and heat from some radical organizations which started hate campaigning and made "#BoycottSurfExcel" trending online. It made serious damages to Hindustan Unilever's brand reputation and became a clear case of a snowball effect.
PESO Model:
Using different marketing platforms or channels to build or uplift any brand's reputation is the most preferred method under Online Reputation Management. These channels altogether outline the PESO model.
Paid Media:
Paid posts on social media platforms, guest blogging, Pay per Click(PPC) advertisement through Google Ads or any same kind of platform falls under Paid Media. Paid Media offers a form of quick troubleshooting for Online Reputation Management. Paid Media helps rapidly in spreading positive aspects of a brand and thus drawing away all the attention from online negativity.
Earned Media:
As the name suggests, it is about earning a positive brand reputation without paying a dime. It can only be achieved by providing superior quality, credible and durable products and services a brand can offer. Encouraging and bringing in the right bloggers, market influencers and other members of media will help in targeting their specific set of audiences. Publishing contents containing ratings & reviews created by these bloggers and market influencers will provide an undue validation to a brand's product and its services.
Social Media:
Social Media is an inseparable tool for Online Reputation Management. Social Media gives the best way possible for any rand and its users to interact and engage. Posting fresh and updated content periodically along with responding to user's queries and issues portray a very nice and positive online reputation.
Owned Media:
All digital marketing channels over which a brand enjoys its absolute control is defined as Owned Media. A brand's website, blogs, podcasts, webinars, Youtube Channel, and especially e-mails are included in Owned Media.
Commandments of ORM
Building Reliability:
Trust and reliability are a hard bargain and asks for a relentless commitment from a brand's end. Guest posts, guest blogs, celebrity unboxing videos and reviews on credible channels can establish a high degree of trustworthiness in a brand.
Follow Transparency:
Following transparent policies in conducting a brand's business helps in shaping the narrative favoring the brand's product and services always. Addressing negative reviews, publicly displaying return and refund policies, or even showcasing the operations and storage environment do portray a brand as transparent. Transparency has always proved to be a good investment in the long run.
Tracking Online Brand Mentions:
Online Brand mentions require immediate attention and response as and when the need arises. It is always better to put the right tools in use to track what people's narrative is about a brand's product or its services. Crafting immediate responses, addressing negative reviews, and highlighting positive aspects at appropriate channels describe a correct trajectory for online reputation management.
Using Online Reputation Management (ORM) tools:
With the advent of some online tools like Awario, Brandwatch, grades, and many more, it has become easier to manage a brand's online footprint. These tools help in finding and analyzing both positive and negative online mentions, thus to cultivate and craft a corresponding strategy for online reputation management. Search Engine Optimization (SEO) tools like SEO Spyglass helps in managing SEO content related to online reputation more effectively.
Constructively Resolving Critics:
Legitimate complaints and criticisms should be appreciated and taken seriously. A brand is ought to provide an immediate resolution to users' complaints, with resolutions made publically available. It helps in shaping customers' perceptiveness towards a brand and highlighting that the brand is indeed inclined towards self-improvement and customer-centric.
Conclusion:
In the present era of inter-woven digital world online reputation is the first impression a brand leaves on a potential buyer. No matter how big or small a brand is, it carries a certain level of online reputation. Information being easily accessible and flowing all around, a bad reputation is what a brand would never want to ingress upon its users. Unfortunately, most brands only consider online reputation management after getting receiving stains and negative flacks on their image. Online reputation is not only about image makeover or flushing of the online negativity – it's more about laying the foundation and groundwork for a prosperous brand reputation. Farsightedness and making corresponding preparations is the only way to gain an upper hand to set a narrative favoring the brand.
Enroll yourself in Best Courses in Digital marketing and start your career in digital marketing now.
Written by: Dikshant Deeptanshu