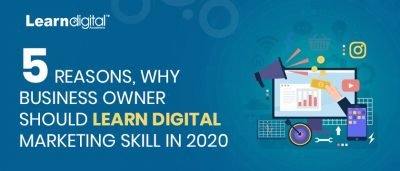 Today's tech-savvy customers expect online shopping, transacting, and connecting to their every need. Therefore, if your company isn't online, there isn't one. At the same time, having a website, forum, or Facebook page doesn't suffice. The question is, are you using these digital channels to your advantage in business?
If your answer is no, then it's high time you study digital marketing. To succeed and prosper in the world is a requisite entrepreneurial ability. Ideally, to understand the basic principles and strategies you should enroll in a digital marketing course.
Here are some reasons why every business owner should practice digital marketing:
Cost-Effectiveness:
 It is quite difficult to have cost-effective traditional marketing platforms like television, print, and billboard ads. To do the ads on your behalf you need to find an advertising agency. You can do it yourself in the case of digital marketing though. You can market your services and products on a very low budget.
Builds Reputation and Credibility:
 Once consumers can find your business online, their trust in you is given a boost. They think the company is real. Through digital marketing, you can develop a better partnership with the customers. This, in effect, is gaining reputation and credibility for your company. If you're a small company, it can do wonders for you! This offers a level playing field for bigger companies.

Customer Engagement:

 Loyalty is of paramount importance to any company. New-age clients are fickle-minded though. They do not hesitate to turn to another company even for a single second when they find a better deal. With a click of a button, the range of products and services available has spoiled consumers for options. In such a situation, you need to engage consumers on an ongoing basis and with enthusiasm. Digital marketing is a very useful method for feeding customer information, providing updates, gathering feedback, and facilitating discussions in two ways. Your company will always remain high on consumers ' minds!
Higher sales:
 There are different kinds of digital marketing tools that you can deploy from different sources to generate business leads. If you know, the more leads the conversion chances are, the greater. The value of your market also rises as you acquire new clients, which results in higher profits and sales.
ROI Measurement:
 Digital marketing is a sure-fire tool for recognizing the success of your marketing campaigns. There are various online tools that allow the monitoring and calculation of Return On Investment (ROI) on every cent spent on marketing. With ROI figures at your disposal, you can make real-time changes to your marketing strategy.  If you are a business owner or sales-marketing professional and willing to learn digital marketing to grow your business online. Take a look at our digital marketing program for business people.
Are you wondering from where to learn digital marketing skills to take your business to another level? You need not search any further. Join our Best digital marketing training institute Learndigital in Bangalore and become a certified digital marketer.