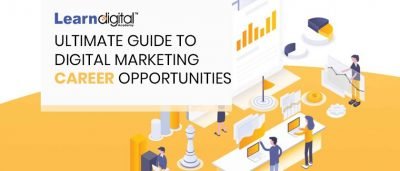 History and Evolution of Digital Marketing:
Over the last decades, the marketing department has had to keep up with technological advancements. To keep up with these changes, the marketing professionals are using digital technologies to reach out to a large customer base.
Businesses no longer use traditional marketing agencies to reach out to target customers. Introduction of the internet, big data, and smartphone technologies have influenced marketing resulting in digital marketing using electronic devices.
Digital marketing involves the use of the internet or electronic media to promote the company's products and services. Electronic devices like tablets, mobile phones, PC, and other digital mediums are used to market the products over the internet.
Marketing channels like content marketing, Social media, email marketing, and mobile marketing are used to generate traffic for the business.
How the Internet Has Revolutionized Digital Marketing:
 Digital marketing was introduced back in 1990 after the introduction of search engines which was commonly referred to as Archie. The web 1.0 platform enabled internet users to search for information over the web but couldn't share the information over the web.  Back then, web indexing wasn't (Archie) much used since the web hadn't evolved.
In 1993, digital marketing achieved his first milestone through the introduction of clickable banners. Later HotWired Company purchased banner ads to advertise through the web. This marked the beginning of the online advertisement.
In 1994, Yahoo established the first search engine and people started using the Yahoo search engine to look for information on the web. After a year of its launch, more people were using Yahoo to access information. Companies started optimizing their web pages to increase their rank in the search engine. Amazon E-commerce site was established in 1994 whereas eBay site was established in 1995. Increased use of search engine optimization led to the launch of other search engines like HotBot, Alexa, and LookSmart in 1996.
During this time, marketing professionals started using Search engine optimization, SEO to ensure their website content appears on the top results of the searched information. SEO techniques like keyword stuffing and backlinks were commonly used to increase site rankings.
In 1998, Google was established. This is another search engine Company and over the years, it has become the most popular search engine across the globe. Google started penalizing sites using backlinks and keyword stuffing to create traffic with the establishment of the Google algorithm. During the year, Microsoft launched MSN search engine whereas Yahoo introduced Yahoo web search.
The year 2000, saw the wipeout of the smaller search engines. Many internet startup companies were also closed down. Businesses that took time in studying the market leverage on the use of the internet to improve their businesses. Google established AdWords in 2000 to help marketers in advertising their products and services. The google ads became a major player in the digital marketing world and improved sales of businesses. Web 2.0 was also established which opened many doors for digital marketing channels. Interactive websites were also established which enabled marketers to publish dynamic content and allow the target audience to interact with the site.
2001 led to the birth of the first mobile marketing campaign.
In 2002, the LinkedIn professional network was established to help businesses interact with other business associates and target audiences. The Launch of the MySpace social network site in 2003. After a year Gmail, Google Docs, and Facebook went live. The new sites opened doors for promoting companies' products and services online. Many companies took advantage of the new social network site to create awareness of their products and services.
YouTube was launched in 2005 to fill the gap between creating and sharing videos.
In 2006, the search engine traffic increased to 6.4 billion in a month. Twitter and Ms. Live Search were also launched. Amazon's e-commerce sales also reached $10 billion.
In 2007, various web streaming services like Hulu were established. Tumblr's social network was also established increasing the number of channels digital marketers can use. iPhone smartphone was also established by the Mobile Giant Apple leading to an increase in mobile marketing campaigns. To keep up with the competition, Google launched real-time search engine results in 2009. Google AdWords and AdSense cost-per-click advertising techniques became more popular. The Google algorithm started to target ads based on customer search making it the most used digital marketing scheme.
The year 2010 saw the launch of WhatsApp and Google Buzz.
In 2011, Google launched Google+ and Google Panda to facilitate page optimization. People connect and interact with each other through Google+.
In 2012, companies increased their budget for social media marketing campaigns by 64%. Social media sites like Facebook and Myspace were commonly used by businesses to promote and engage the target audience.
Yahoo acquired the Tumblr platform in 2013.
2014 saw the increased use of a smartphone in accessing the digital technology. More people downloaded the Facebook messenger app to connect rather than using a PC to access Facebook. More Facebook ads and LinkedIn were customized for mobile use. In the same year, Facebook also acquired WhatsApp mobile app.
In 2015, more digital technologies evolved. The Snapchat application launched its own discover feature to enable users to connect with more friends and followers. Facebook also introduced Instant articles as well as the launch of wearable tech. Facebook, Instagram, Snapchat, YouTube, Twitter, and Reddit are the most commonly used social media networks in 2017 and  2018. There over 3 billion Facebook users daily and business leverage on the use of these sites to reach a wide customer base.
Cookie technology has become a popular tool in digital marketing technology. Every website stores some information about each user's browsing history.  A cookie is a piece of code left in the user's browser once they visit a certain website. The cookie enables the website to remember certain information about the user based on the last time they visited the website. The recorded Cookies information plays an important part in digital marketing as marketers use them to track users browsing habits.
That said, we cannot deny that the world has become increasingly digital, and traditional practices alone will not result in the global outreach expected. Although the prevalence of Print Media has significantly reduced in Marketing, companies cannot completely ignore traditional marketing instead must intensify their Digital marketing strategies while ensuring that they do not stay behind in Traditional Marketing.
Read more from our blog:
Digital Marketing Stats in 2018
Why Digital Marketing is crucial to your Business's Success
Updates on Google Business Listings for 2019

Career Paths for Digital Marketing:
Availing Digital Services is very convenient, fast, and feasible. But rarely do we think about the effort taken by a company's Digital Marketing team to bring reliable, inexpensive digital services to our doorstep.
Whether it's online shopping, hiring a remote digital service, or instant clearance of bills; Digital Marketing is the foundation of ECommerce Businesses that have successfully overtaken traditional brick-and-mortar stores across the globe, here are the best careers in Digital Marketing.
Reaching out to users online who may be interested in buying what you have to offer takes patience and a strong engagement strategy based on the tenets of 'Customer is King'.
If you're seeking a career path in Digital Marketing, you've made the right choice in securing a bright, productive, and growth-oriented future for yourself because Digital Marketing seems to be achieving uncontrollable growth and is roping in millions of employees for high salaries. The major career paths that you can take on the road to becoming a Digital Marketing Professional are as follows:
Online Content:
Online Content includes all Digital Content and Resources including;
Blogs,
Videos,
Ads,
Sales Copy,
Graphic Design,
Infographics,
Website Content including Home Page Content, Landing Page Content
Email Content,
Posters,
Taglines,
Online Class Content, and so much more.
There are several job roles pertaining to the above tasks and a few positions you can apply for include the following:
Content Writer/Copywriter
Graphic Designer
Website Developer
Content Manager
Search Engine Optimization Analyst
Online Advertising:
There are several channels for Online Advertising and the major channels according to the latest Digital Marketing Trends are as follows:
Search Engine Marketing Analyst
Affiliate Advertising
Influencer Advertising
YouTube Ads
Google PPC Ads
Social Media Advertising
Jobs roles that you can seek in Online Advertising are as follows:
Digital Ad Sales Executive
Communication Manager
Digital Marketing Manager
Media Sales Executive
Search Engine Marketing Executive
What Major Career Paths entail in Digital Marketing:
SEO Executive: Search Engine Optimization forms the crux of a Strong Online Presence. It is crucial for Digital Companies to rank high on Google and to show up on the first page of search results for relevant and accurate search terms.
Besides, SEO is a hot digital marketing career path owing to the fact that search engine algorithms change faster than the speed of light and companies need to be in tune with the changes to optimize their web presence and stay on top of search engine rankings.
Since SEO Analysts influence an organization's web presence on Search Engines, they are very much in demand in the world of digital marketing. Top companies are willing to pay as much as $80000 for hiring an SEO Analyst.
Web Content Developer/Manager: Web Content Management involves creating informative, relevant, and engaging online content in the form of write-ups, sales copy, and graphic elements all of which help shape customer opinion and lead to sales and conversions.
Web Content must be regularly updated since stagnant online content leads to a lowering of search engine rankings and dwindling of website visitors.
Web content management is another important Digital Marketing job role since it involves working in tandem with the SEO Executive to create web content that's compliant with Search Engine Optimization by using the right keywords and by modifying copy so that it crawled effectively by search engine spiders.
Digital Marketer: A Digital Marketer is responsible for marketing a company's online presence whether it's the website, blog, YouTube channel,q, etc. on relevant marketing channels online, including Social Media Platforms, Search Engine Ads, Affiliate Marketing platforms, etc.
He/she is also entrusted with the task of finding influencers who will do paid promotions of e-commerce products/services and for putting up Ads that drive in high traffic at controlled costs.
Finding your Digital Marketing Career Path:
Finding a job is not the only career path you can take in the world of digital marketing. There are so many options to go solo and to still have a thriving career. Here are a few ideas to become a professional in the Digital Marketing Industry:
Get Hired for a suitable position in a top Digital Marketing/Media Firm
Build your Online Brand and Promote it using the latest Digital Marketing techniques: You could make your own website, e-commerce store, YouTube channel, social media brand, etc.
Offer Freelance Digital Marketing Services: If you are certified or highly skilled in any Digital Marketing technique, you could offer your services on various freelancing platforms where you can showcase your portfolio and offer to work for clients for a fixed price.
Just like any other industry, constant learning is the key to achieving exponential progress in digital marketing. But unlike other industries, learning is more prevalent in Digital Marketing since this Industry is largely based on Technology which is an ever-evolving paradigm.
The tools and software that may be popular today may become obsolete tomorrow. Similarly, Digital Marketing Strategies prominent in the present times may have evolved to bigger and better strategies a few months or years down the line.
Attending and practicing Master Digital Marketing Training and Self-Learning are both excellent ways to upgrade your Digital Marketing knowledge.
Challenges and Opportunities in Digital Marketing
Despite the hue and cry about Digital Marketing, everyone seems to have forgotten that it is very new and only came into the foray a few years ago. Ever since brands realized the immense potentiality of marketing online, Digital Marketing received enough attention and more.
Digital Marketing may be similar to Traditional Marketing efforts in more than one way, but its processes keep changing even before Digital Marketers can acknowledge the shift.
This has got to be the most opportune moment to worm your way into Digital Marketing since there is a big likelihood of your career growing by leaps and bounds along with the growth of Digital Marketing.
A majority of youngsters are hell-bent on being certified and employed as a Professional Digital Marketer mainly because it's so hot and trending all over the world and looks to offer a promising career in the near future.
If all the hype about Digital Marketing has got to you and you simply cannot wait to be included in this billion-dollar industry, it will do you good if you first learn the various challenges and opportunities you will have to encounter before going for Digital Marketing Training:
Opportunities:
Become a Digital All-Rounder:
Digital Marketing is not just about a single skill but combines several different tactics like writing, graphic designing, creating compelling copy, research, and analytics.
When you're enrolled in Digital Marketing Training, it turns into an exciting learning opportunity where you can meet like-minded digital enthusiasts like yourself and determine your special area of interest.
Since people from different social backgrounds and professions come for Digital Marketing Training, don't be surprised to see housewives, businessmen, students much younger to you, and even busy office-goers deriving time out of their schedules, learning Digital Marketing along with you.
Thus, you have twice the amount of learning to do, as opposed to if you were self-learning through freely available resources.
Unlock access to a Massive Audience:
With Digital Marketing Training, you are free to contact a global audience if ever you decide to have a Business of your own. The seemingly limitless outreach Digital Marketing brings is valuable for large enterprises looking for candidates with this unique skillset targeting a global audience.
While sitting in your classroom or office, you will have the ability to search, find, and target customers across continents. This is possible through the various Digital Marketing Strategies imparted during Digital Marketing Training.
You get to choose from several different career options:
Digital Marketing may sound like a singular career but with the growth of the Internet, Digital Marketing as a field now encompasses several different career paths requiring specialized skills.
So, you do have an excellent opportunity to be unique even in a 9 to 5 job. Digital Marketing also provides an opportunity to pursue your creative passions.
Jobs like Graphic Designing and Blogging require an eye for art while flexible work options are provided to Digital Marketers hired by top corporations.
You Influence the Buying Decisions of millions of customers across the globe:
If you do not yet realize the immense power Digital Marketing has over customer behavior, you should know that every single strategy influences millions of potential and existing buyers in different countries.
The online content that you craft for Digital Marketing including Blogs, social media shares etc. plays a huge role in nudging customers to spend on what they see online.
Internet users who regularly read blogs and interact with online content are greatly influenced by Digital Marketing and the power lies with the Digital Marketers. You can change the market for a product or service with your Digital Marketing skills.
Challenges:
Technologies change almost every day:
Digital Technology is requiring lesser manual work since automation is wiping out the need for humans behind computers to perform tasks in order to reach users online.
In Digital Marketing, new tools and software are cropping up every single day requiring Digital Marketers to get acquainted with them to be able to call themselves skilled at it.
As such, it's hard to cope up with new technologies. Digital Marketing Training is your best bet in getting acquainted with the latest technologies but after a time, your certification may lose its sheen and you may have to reskill.
Digital Marketing isn't standardized:
Other Industries may have a standardized structure that anyone aspiring to get in must adhere to. But with Digital Marketing, there is less standardization, and anyone can self-learn the latest tools to put them to use in Business or Employment.
Training Programs offer a very limited view of the newest trends and can't sustain amidst the ever-changing Digital landscape. This is why organizations are left without clear KPI's and are unsure of how to gauge their digital marketers with their expertise.
Majority of the People who are directly soaking up Digital Marketing or can benefit do not understand this Industry:
When you say Digital Marketing, people assume it as a complicated technological science less relevant to them. But the fact remains that almost every single Internet user should know about Digital Marketing because they directly benefit from it.
Getting Trained in Digital Marketing is a boon as long as you're able to utilize your certification for use in Business or to get employed in a large corporation. The problem arises when you offer Digital Marketing services to clients who need it but aren't aware of their needs.
Even with all the challenges, Digital Marketing is important to reach global users in large numbers for Internet Services and Businesses. Digital Marketing may not be the ultimate way for a glamorous career, but it certainly does look promising.
The essence of Digital Marketing lies in getting to know your audience. And this basis is what you must grasp from your Digital Marketing Training. Tools and Software may change but the underlying essence is what will remain when it comes to marketing online or offline.
There's no doubt that Digital Marketing is a fine career choice in 2018 as long as you keep an open mind and embrace the challenges that come with it.
Get yourself enrolled in our Digital Marketing Course with Internship. We are among the Best Institute for Digital Marketing in Bangalore, we have trainers who are experts in digital marketing with 5+ years of experience.