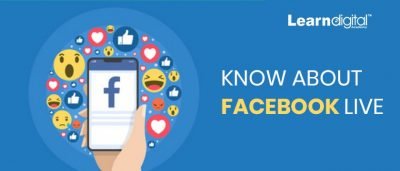 14 Things you need to know before going Live on Facebook with what to do:
In 2016 Facebook launched a new feature called "Facebook Live" a live video streaming service that lets anyone broadcast from their mobile camera straight to Facebook News Feed. Since its launch, Facebook Live video has exploded in popularity- according to Facebook, the live video is watched by 70% of users.
From 2016, many marketers, companies, and influencers are using Facebook Live for the benefits as Facebook live generates 3000 years of watch time every day.
This is the better way to show your side whether it is for the company, influencers, or your personal profile. Normally marketers are very excited about Facebook live as this is the simple and smartest power to communicate with their brand stories.
Facebook live has an unprecedented reach when it comes to reaching fans or followers organically. Facebook algorithm highly prioritizes live video, which means your followers will see your live video more as compare to your other post. If they miss at your time then they can after that as facebook saved a live video. Facebook live video achieves 3X higher engagement than other any normal video.
Its very simple just switches your phone on, hit the broadcast button, and roll with it. Wait ! after that what you will do ? is your live video will reach the audience that you are targeting? What you will speak or show? So here are some keys you need to know before going live on.
1. Set a Goal:
First ask yourself what is your goal what you want to achieve through this live, connecting with the audience is the paramount objective. Celebrities, influencers go live just to connect and interact with their fans, chances are you don't have the same resources.
So your objective should be more specific and result-driven. Once you and your team settled the objective, plan your video with that objective in mind. It should reflect the topic that you have to choose.
For example, if I was putting together a live for a Digital Marketing that wanted to tell the future of Digital Marketing. I might choose to do a Q & A live with one of the best Digital Marketer.
2. A Description:
Your broadcast should have a catchy description that can attract people to jump in your Live and it will also help people to understand what your live is about.
Tell them which topic you are going to cover and what will be the key feature. You can also put any contest, any breaking news, etc.
3. Promote Before you Go live:
Yes, you have read right you can promote your live before you go live. You have to remember that live video is an event more than a post or normal video. You have to generate interest before the experience if you want a reach. You can do these things.
Push the Facebook live announcement on your Facebook account as soon as possible Remind your audience, share something new so that they can be more excited.

Send an email, if you have a mailing list then reach out to them and send a simple newsletter before your Live.
Post on social media, Create a set of posts that count down the days to your live broadcast to remind fans to tune in.
Go live before, Do a short informing Live video that you will be going live in a few days, what topic you will discuss, time and date.
4. Schedule your Live Stream:
After you have figured out your topic if you are going to feature any guest, where you are going to host it, the next thing you need to schedule your live broadcast.
Go to insight on your page
Go to the post section
Click on "when your fans are online "
You have to make sure that you have as many as possible fans in your live.
5. Prepare yourself from Distractions:
Though Facebook live is not a television or youtube production. That doesn't mean you shouldn't plan. Your live activities represent your brand and how serious, genuine your brand is, you can't afford to give a bad impression.
Before going live take some time to prepare. You can also go live privately to test your lighting, sound, background, and other surrounding material.
Make sure your camera is in the correct position it's not shaking to reduce shaking you can use a tripod. Make sure that your ambiance is good not to inside not so outside but with good and of course a good broadband connection.
6. Broadcast for a longer period of time:
The longer you broadcast, the larger engagement you have. The average time for Facebook live is 18 minutes and you can stay live up to four hours, more likely the people are to discover and invite their friends to watch the video.
7. Always be responsive and interact with viewers:
You have to know the correct time to give your introduction. When you have a maximum number of viewers then give your introduction tell on which topic you are talking, what points you will cover, and what you have covered.
With the help of Facebook live you can interact with the followers in real-time. Though it's not necessary to give all the answers to your fans' questions I would recommend you to do this. Respond to your fan comment and answer question! It will help your followers to stick around and watch this is the best way to make your broadcast super-engaging.
Acknowledge your fans with their name not everyone but few by doing this your viewers get pumped for the Live.
8. Add an ask or CTA:
Add some CTA. This is the tactic to engage with your viewers and call them in your next broadcast.
E.g Answer this question and you can win these goodies.

9. Analyze your Result:
You should always learn what you have accomplished. Facebook has many features that you can measure with live videos. Like you can check how many people you have reached, how many people, how many unique viewers you have, and so on.
Got the results but do you know you can do many things even after Facebook live here are some things some.
1. Change thumbnail:
Yes, you can change the thumbnail of your Facebook live video after the broadcast and even you can upload a new thumbnail. If a thumbnail image is interesting and striking, you video sure to be seen after the live video.
A thumbnail is a small still image that is shown before and after the video is playing. This image is very important because based on this your viewer chooses whether to watch this video or not.
2. Title Change after Broadcast:
As we discussed earlier that live video title should be catchy and unable to get the attention of all the fans.
Let's take an example. Your title is " Things you need to know of facebook live – Live now " so after the broadcast it will not look good as you are not live at this time, your title should be "Things you need to know of facebook live – watch the video".
3. Boost the Broadcast:
You can boost your broadcast after the live video with the help of Facebook ads. Yes, with the help of Facebook ads you can also boost your live video so that it can have more engagement.
You can choose your target audience, you can create a custom audience and even you can target those people who have watched a part of your video.
4. Share broadcast to other Social Media:
Once you are done with the video now you have a video like a youtube, you will have alike to share other platforms. Tweet about your video put it on Instagram Bio that's how you can reach with many people across various platforms.
5. Add Captions to your broadcast:
Ever this happened to you, you are sitting in an office or in official work and you came across a video which you want to see but can't because of your Boss, still you watch by reading captions.
A study shows that 50% of people watch videos without sound.
After a broadcast, you can add captions to your broadcast.
Few things you can do in your broadcast.
Teach viewers how to do something.
Do an exclusive interview.
Announce a new product.
Explain the functioning of any product.
Do a live tour to your store or brand.
Announce breaking news.
Broadcast live events
Show behind the scenes video
Host a special guest
Build some suspense (for your next broadcast)
Are you ready for the Live broadcast?;
These are the tips you can use when you are planning your next Facebook live Video.
If you have any question and if you have any other strategy about Facebook live (or any other) just write to us atinfo@learndigital.co
Are you willing to master social media marketing, then join our social media marketing training in Bangalore? We will teach you how to use social media marketing for brand awareness and marketing.