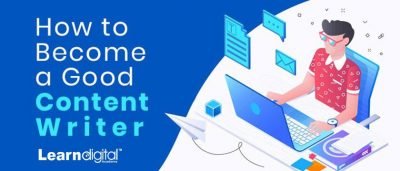 [vc_row][vc_column][vc_column_text]
Writing good content is a dream work for many people. Some people write newspaper content or articles and others will become successful authors like Jeffrey Archer.
Content writing and being a content writer is not easy at all. For becoming a good content writer It requires a lot of practice before you can claim to be a successful content writer. A good writer should be competent and skillful and they should be engaged in writing as their main occupation.
Content is King:
The success of every website depends on the quality of the content. Good content always helps a website to get good ranking and it's easy to increase the website traffic. Unique high-quality content is essential for ranking in search engines like Google. During earlier days the ranking just depends on loading text with keywords. Now Google has provided new updates like the panda, Penguin, and Hummingbird. This will rate the quality of the content for increasing higher ranking.
5 Reasons Why Content is King?
Good for SEO

Encourages Engagement

Generate new leads and sales

Add value to your Product / Sales

Increases Traffic
Good for SEO:
High quality and unduplicated contents play a great role in SEO and search engine ranking. If we are adding unique content frequently to our website with 300-500 words along with keywords, it plays a great role to increase the website traffic. Always we need to use proper quality content for our website.
Encourages Engagement:
Good content always encourages users to engage with our brand, whether it is a blog post or social media update if the content is genuine, the user will pause to consume the content and they will give like comment, and share. If the content is not good they will simply scroll it.
Generate new leads and sales:
Good content creates brand awareness and by that, we can increase new leads and increase sales as more consumers become exposed to the brand. Content always plays a key role in creating leads and sales.
Add value to your Product / Sales:
Content adds value to your Product/Sales. New content helps us in many ways like, by reading a new content we get many new ideas and it teaches us something new. Good content always adds value to consumers by educating them on the Product/Services via a blog post, Social media posts, videos, etc.
Increases Traffic:
Good content helps us to increase the SEO traffic to our website and keep consumers to stay on our site for a long period. If a website only with Home Page and Contact US page will receive a higher bounce rate. Whereas a website with a good number of content-oriented blogs will make the visitors engage.
Importance of Content Writing
Content writing is very important for every business nowadays. Every Business should need good proper content for their website. Most of the population in the current generation is depending a lot on the internet to get their products and services, anywhere and anytime. Now the internet has become their most favorite marketplace to find their favorite shops, blogs, and source of trusted information. So it is very important for every website owner to keep their websites attractive and informative at the same time.
Good content must be there for every website to get more traffic. Updating content frequently is one of the most effective methods to keep your website informative.
SEO content plays a great role. SEO content writing is the process of placing the right keyword in the right place and by that, we get more traffic to our website. Good content is said to be the life of a website. Content should be Unique, aggressive, and professional. Good content helps our webpage to come to the top of the search results. Good content attracts the visitors very much and by that, we can convert them as our customers.

To become a good content writer, you should have the following skills:
Knowledge of Language

Technical Ideas

On-Time Delivery
Knowledge of Language: A good content writer should have a good knowledge of the language. A content writer should have clear knowledge before writing content. He should have knowledge about how to persuade people to be customers by giving enough information in a small place.
Technical Ideas: In the field of web communication, a business cannot move simply based on good content. In the web content writing services technical knowledge also plays a great role, especially the content writer show know about search engine optimization method. A content writer should be aware of the SEO method, by that he can easily create SEO friendly creative content. The idea is that If he knows SEO, then he can easily put keywords in between the sentence and its easy to get traffic for our website.
On-Time Delivery: The content writer should be able to deliver work on time. It's very important that we want to deliver it at the correct time.
Top Skills Every Great Content Writer Needs:
Adaptability

Strong Research Skill

A solid understanding of SEO

Organizational skill

Ability to get focused

Ability to meet deadlines

Delivery quality

Staying in Demand
Adaptability: I see a lot of content that drops flat because the tone and style don't fit the function of the piece or the culture of the brand. For example, a landing page should perhaps have a copy that is short and designed to convince the reader to take action. In contrast, white papers will likely work best with more information to explain a more complex issue.
Strong Research Skills: Good research is the key to good content writing – it adds credibility and, most importantly value. Therefore, it's very important to search out trustworthy and fascinating data from reliable sources online. Expert's square measure is a particularly great resource if you can effectively get the proper data with smart interviewing skills.
A solid understanding of SEO: Great content writers stay high position on SEO trends – in any case, even the best content won't be effective if readers can't find it. It's important to know how to craft SEO-friendly titles and descriptions, use keywords effectively, and keep up with Google's latest algorithm changes.
Organizational Skills:
Organizing isn't just about having a clean workspace; it's about keeping high on the writing jobs you've taken on.

Keep a calendar and know your deadlines. Most Smartphone even has programs that will assist you to organize your time. Sending a late assignment sends a bad message to your clients and often won't give the editors as much time to rectify your article. Prioritize your jobs, so you get them all done on time.
The Ability to Get Focused: Writing requires concentration which can sometimes be tough to find. When it's time to work, get rid of disturbance, and focus on one task at a time. Sometimes to get the ball rolling, you can start with a few less significant, easy-to-complete tasks before beginning with your larger projects.
The Ability to Meet Deadlines: Your clients have deadlines they have to meet. Handing over high-quality content punctually will show that you are not only professional but also reliable. This means managing a good time is essential to help you really find out how many jobs you can accept and reject and deliver it promptly.
Delivery Quality: Content should need a good delivery quality and the content should be unique and grammatically error-free.
Staying in Demand: If you are a good content writer, you want to up to date with the latest trends. For every good content writer new content is very much important and the content should be unique.
Market Scope for Content Writers:
In SEO content writing is very much important for every website, we need to write good and quality content. You have to use targeted keywords in the content for good traffic on our website.

Content writers have plenty of opportunities in e-commerce and digital marketing platforms as there it's required to write promotional content about their products and services.

Some companies are looking for content writers for writing news and journalism.

Content writers are also hired as a part of social media optimization teams to facilitate the online presence of the company on popular social networks like Facebook, Twitter, etc

Another great option is to work as a freelance writer for any business. In this way, you can save your time and energy and you can create valuable content from the comforts of your home.
Final words: Content is the king. Being a good content writer is no easy task. Writing a good quality unique content is very important. A good content writer should write good unique content and he should know the topic very clearly. Selecting a good topic is also a very important thing before writing content. Content writing is very important in many fields.
About the Author: Nagarjuna Reddy. Sudha is a Digital Marketing Manager at Web I7 Digital Media and Digital Marketing Trainer at Learn Digital Academy, the best digital marketing training institute in Bangalore. Nagarjuna is a well experienced digital marketer, trained more than 180 digital marketers up to date. He is passionate about creating digital strategies that lead to better content engagements and sales driven traffic.
Learn Advanced digital marketing courses, Learn Digital Academy is providing digital marketing course with 50+ Modules, 25 Certifications, and 100% Placement Assistance.[/vc_column_text][/vc_column][/vc_row]