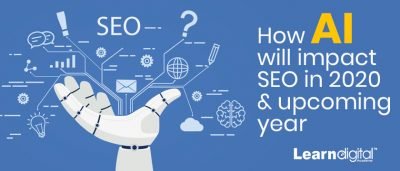 Artificial intelligence (AI) is becoming one of the biggest trends in digital marketing today and for 2020 and the upcoming year.
 AI–specifically machine learning –has become a crucial component of how pages are classified by search engines. This means understanding AI is essential in search engine optimization (SEO). As search engines have become better at identifying keyword stuffing, irrelevant backlinks, and user-friendly quality content, marketers have had to use AI to meet search engine requirements. However, while it is necessary to play by the SEO rules, using AI for SEO success not only gives you a greater opportunity to improve your page rankings but also allows you to develop more cohesive strategies and better content.
Artificial Intelligence is becoming increasingly present in digital marketing and helps marketing professionals gain insights from the results. The marketers already have exposure to artificial intelligence or machine learning through key marketing technologies such as CRM or marketing automation. SEO is not left behind, and AI's advanced analytics capabilities will assist with customer acquisition and improve top-of-the-funnel efforts. Thanks to revolutionary new intelligent technologies, the digital marketing medium is facing years of fundamental strategic changes. But it shouldn't be difficult, as this dynamic medium has already been able to adapt effectively throughout its 15-year existence to new changes such as the rise of social media, SEO and content marketing.
The SEO Process involves many tasks. It starts with analyzing the intent of the consumer and the strategy of competition to create the relevant content. Then an essential part of SEO is to monitor outcomes, test new approaches, learn, and repeat. With help from the Artificial Intelligence and Machine learning paradigm, most of these operations could be automated and scaled.
Search Engine Optimization has gone through various changes over the past decade, from simple website optimization for the desktop to the complex and ever-evolving process of enhancing the content. While some aspects such as keywords and meta tag optimizations and connection building have never changed, SEO has progressed a little more when it comes to mobile optimization, user experience, and social media marketing.
Consumer Purpose and Competition Analysis: Automated analysis of organic search and competition performing content to identify gap and keyword opportunities
SERP Analysis: SERP monitoring of target keywords to define pattern and insight into action to be taken.
Automated SEO tests and website performance: AI model may automatically apply changes to different website pages.
What is AI in SEO:
AI in SEO helps improve your current SEO strategy by identifying opportunities, such as keywords related to it. Its algorithms, as well as speed, help businesses speed up the process and enhance keyword research accuracy, competitor analysis, search purpose research, and more.
With AI's continuing progress, it's becoming easier and more accessible for businesses to use. The ability of AI to complete dozens of functions and analyze trillions of data points makes it an intelligent step in any SEO strategy.
AI with Voice Search Domination:
Conversational AI does it all! Voice search and digital assistants are two sub-areas of AI. Google uses machine learning, where the engine uses pattern detection and other methodologies to teach itself and generate the best possible search result, getting better every time based on new information. Machine learning is what's behind conversational AI. It makes search engines more intelligent and powerful, too. That's the reason why we are seeing ads about the things which we just said or talked about but haven't actually searched for yet.
So, now is the time to optimize your campaigns for voice search. You can start with basic SEO by targeting long-tail keywords, optimizing Google My Business, and adding a FAQ page to your website. Assemble your content as query-based (Who/What/Why/Where/How) and see how your performance changes.

How-does-Artificial-Intelligence-improve-the-seo-&-digital-marketing-landscape:
Digital marketing and Artificial Intelligence are two of the hottest subjects of the present time. Those two outstanding technologies are rapidly expanding. Although the world is big on them already, we don't see them ever going out of style. The future of marketing was once considered by artificial intelligence and here we are. Machine learning and problem-solving are part of the group. With the help of technology, Artificial Intelligence offers practical solutions.
Artificial intelligence and digital marketing are linked closely. The reason is, artificial intelligence help improves user experience, and that's the ultimate goal of SEO enthusiasts. You might see the discussion going on in all the Digital Marketing Institutes in Bangalore. Both the words are so broad that it would be inappropriate to talk about them so soon. Let's get a deeper understanding of "How does artificial intelligence change the digital marketing landscape?
* How is AI Benefitting To Digital Marketing Life:
A digital marketer's life is all about analyzing what visitors will be pleased with. Understanding such a large number of people's interests is no easy task. AI has offered a variety of better-analyzing tools than humans.
We have become more reliant on artificial technologies, from artificial organs to human-treating robots. Already adapting to artificial intelligence has enhanced and accelerated the digital life. The AI technology provides better insights, and thus allows to plan better.' AI-powered ads can reduce expenses up to 37 percent according to estimates.
  * AI-will-play-Major-Roles-in-Digital-Marketing:
Issues related to artificial intelligence have always surpassed human efforts, and so will AI. Artificial intelligence will cover a wide spectrum of jobs that were previously reserved for humans. It will also help in the measurement of results otherwise impossible.
Let's see what artificial intelligence can do for digital marketers and digital marketing field.
  * It Can Improve Consumer Experience:
AI allows customers to digitally test out the goods. They can see for example how a dress looks at them. Would apps like "Dear Google," voice recognition make searching for their products simple for customers? And that would have a direct impact on the digital marketing sector.
  * AI Can Predict Consumer Behavior:
AI helps to collect data from the entire internet so you can analyze what your clients want. Customers are just that anonymous. With only those who are visiting your profile, you cannot study the whole audience. AI makes it easy to see how customers are behaving to something specific.
  * Better Customer Support:
As a person, calling customer care and asking them to appoint an executive was so frustrating. We weren't available at times and at other times all the executives were busy. AI has offered chatbots that can give instant solutions to little queries of customers. You can learn more about that in Bangalore's Digital Marketing Classes at Learn Digital Academy.
  * Reduced Advertisement Costs:
When you have to pay without getting results, it hurts. You know it wasn't a successful campaign but you can't keep the pay. Now, you can measure the results with artificial intelligence, and only pay when they succeed.
  * Smart Trend Analyses:
The world has always been a lover of trends, and therefore a digital marketer needs to be aware of all the latest trends. You can not predict it yourself, but surely AI can do it for you. The AI-powered tools are able to analyze and recommend patterns so you can also develop your marketing strategy and products.
  * Easy Content Profiling:
The most important thing to examine is how consumers apply themselves to particular content. Your classroom course on digital marketing will tell you how important it is for your potential content creation.
Initially, manually evaluating the response was difficult but AI-powered software made it much faster and easier. The King, Content has his wisest minister in the form of AI.
How To Smartly Include AI-Based Tools In Your Digital Marketing Strategy?
There are thousands of AI applications with a variety of options to use them. AI will yield the best results if you know how to go with it smartly.
Try a variety of tools and practice them
Analyze and find out tools that are helpful for you
Know more about the technology with the help of webinars and online information
Experiment and create your own effective ways
Explore the case studies of successful competitors
Try something specifically designed for your industry
Gain technical knowledge and indulge with AI employing industries to get the best out of it.
Conclusion: In 2020 and the years that follow, AI will have an enormous impact on SEO. We will be able to identify and identify specific search terms by using websites and applications that integrate AI, which will boost our traffic and enhance interaction. By using AI, we will be able to provide the user with targeted and personalized content, allowing companies to create engaging, dynamic landing pages.
Are you interested in learning and making your career in digital marketing, join our Digital marketing training institute in Bangalore to master digital marketing skills.